Office of the State Entomologist
The State Entomologist serves as the authoritative spokesperson on matters related to insects or other arthropods of Illinois; provides current information on research and scientific inquiries on invertebrates, generally, and arthropods, specifically, to the public, scientists, industry, and government agencies; and is the primary point of contact for organizations that require transdisciplinary science to address questions related to the ecology, management, or control of invertebrates, generally, or arthropods, specifically, including insects.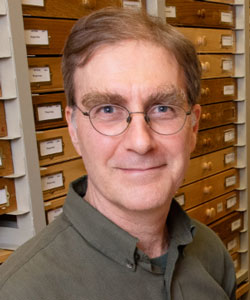 State Entomologist Christopher Dietrich
State Entomologist Christopher Dietrich has more than 30 years of entomological research experience. He has conducted field work in 17 countries and published more than 175 refereed scientific papers. He is broadly interested in insect biodiversity, evolution, classification and identification and is a world authority on leafhoppers and treehoppers (Hemiptera: Membracoidea), which include many important agricultural pests, invasive species, and vectors of plant pathogens. His current research focuses on documenting insect biodiversity, resolving phylogenetic relationships among major hemipteran lineages, and developing new tools and infrastructure for identifying and tracking species. He earned his B.S. in biological sciences at the University of Pittsburgh and PhD in entomology at North Carolina State University.
Contact: chdietri@illinois.edu
History
The office of the Illinois State Entomologist was first established by an act of the state legislature in 1867 with a mandate "to investigate the entomology of the state" and, further, "to investigate all insects dangerous or injurious to agricultural or horticultural plants and crops, to livestock, to nursery trees and plants, to the products of the truck farm and vegetable garden, to shade trees and other ornamental vegetation of cities and villages, and to the products of the mills and the contents of warehouses, and all insects injurious or dangerous to the public health." In 1917 the office was merged with the State Laboratory of Natural History to form the Illinois Natural History Survey, which has been in continuous existence on the campus of the University of Illinois at Urbana-Champaign ever since.
Illinois State Entomologists
Christopher H. Dietrich 2013–present
Leellen F. Solter 2005–2012
Robert N. Wiedenmann 2001–2005
Edward J. Armbrust 1993–2001
Michael E. Irwin 1990–1993
William G.Ruesink 1984–1990
William H. Luckmann 1965–1984
George C. Decker 1944–1965
Wesley P. Flint 1935–1943
Stephen A. Forbes 1882–1917
Cyrus Thomas 1875–1882
William LeBaron 1870–1875
Benjamin D. Walsh 1867–1869